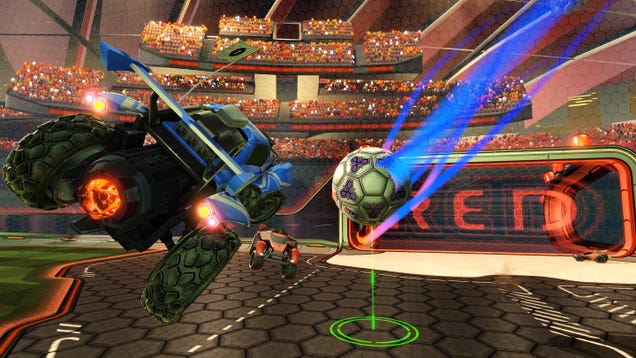 R0cket League, a ridiculously fun mashup of driving and soccer (seriously!), has taken the Internet by storm. The unexpected popularity has ravaged the game's servers. Despite constant downtime, it hasn't stopped vehicular sports fans from coming back over and over.
If you've been trying to play Rocket League on PC or PlayStation 4 over the last week, it's been a frustrating experience. Here's a glimpse at the game's Twitter account from the past few days:
Other milestones. Website smashed, servers crushed, forums killed, too many lag spikes, downtime, and matchmaking probs. We'll work on it!
We are aware of server issues and will have an update soon.
We are aware of the long matchmaking times and we are investigating it right now. Thank you as always for your patience!
We are aware of the EU matchmaking issues, working on it right now. US/OCE unaffected.
You'd think this would have resulted in angry protests from players, petitions on the Internet looking for the heads of the game's developers. Nope. Instead, this just kept happening:
New all-time concurrent! 124,000 players. We LOVE YOU GUYS!
We keep breaking our own record. Over 150,000 concurrent players today. YOU'RE INSATIABLE!
We just broke our concurrent record again! Now 155,000 players!
People can't stop playing Rocket League, even if Rocket League won't let them. And after playing a few matches myself this morning, I can't blame them: this game is so damn good!
The game's developer, Psyonix, seems to have been caught off-guard by the warm reception for Rocket League. The game has reportedly been downloaded more than two million times, and that number only continues to grow.
How come people aren't super pissed off? I suspect it has to do with how open Psyonix is being through Twitter and other places. They seem to genuinely feel bad about what's happening, and working as fast as possible to fix the server issues. Plus, they're humble and apologetic about the problems, which goes a long way to generating goodwill from players. (And, as pointed out by a reader, it's "free" through PlayStation Plus.)
It also helps the game won't be getting any DLC—a mix of paid and free—until a few patches arrive to clean up the game's multiplayer.
@TJ2030 Before DLC. Patch first (and there would probably be one or two additional before DLC as well)
That's how you handle a less-than-ideal situation, and I suspect it will continue to pay dividends for Rocket League in the weeks to come. As for me, I'm going to try and sneak in another game!